We're excited to announce that our 2018 Keynote Speaker will be Barry Moltz!
ABOUT BARRY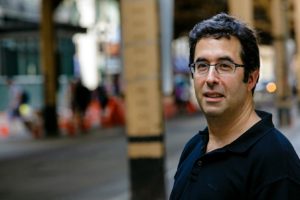 Barry is a nationally recognized speaker who has given hundreds of presentations to audiences ranging in size from 20 to 20,000.  As a member of the Entrepreneurship Hall of Fame, he has also taught entrepreneurship as an adjunct professor at the Illinois Institute of Technology.  He has appeared on many TV and radio programs such as CNBC's The Big Idea with Donny Deutsch, MSNBC's Your Business and NPR's The Tavis Smiley Show.  He hosts his own radio show, Business Insanity Talk Radio on AM560, and writes regularly for the American Express Open Forum and other online and offline periodicals.
WHO IS BARRY?
He worked for one of the largest companies in the world.
He has been fired more than once.
He started three businesses.
He sold his last business, but also went out of business AND was kicked out of his business (luckily, not in that order).
He has hired hundreds of people and unfortunately, had to fire some of them.
QUOTES HE LIVES BY:
"Love everyone, trust a few, and paddle your own canoe."
"Every exit is an entrance somewhere else."
"Start from where you are."
WHAT HE LEARNED PRACTICALLY:
It's always about people.
Success can seem like a near death experience.
Focus, Focus, Focus.
Be humble.
Watch your cash flow.